Tonight's Black & Gold game is LIVE on pgtigersonline.com or on Youtube (Search for pgtigersonline)!

Reminder to register for school if you haven't already! All student computer/email accounts that have not been registered will be disabled Friday, August 12th, 2021.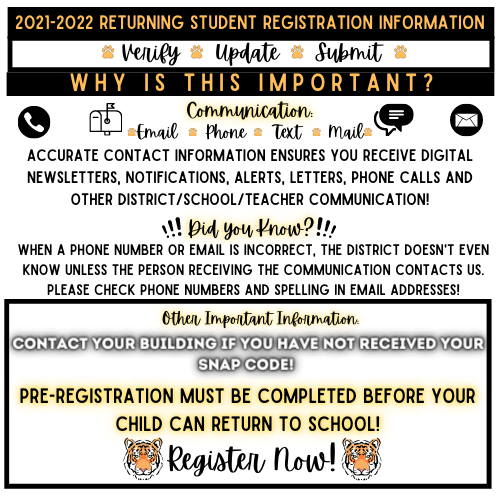 My apologies if there was confusion with the PGMS message earlier. The reminder about Open House should have reminded/stated that it is still on Thursday from 5-6:30.

Reminder: Open house will be from 5-6:30. 6th graders check in at the Library and 5th graders check in to the cafeteria. You can beat the crowd and come in to the MS office tomorrow from 8-3 to get your schedule and Chromebook. You could still come to open house to meet your teachers and put things in your locker without the wait! If you haven't registered with your snapcode, you will have to do that before you can get your schedule.

PGMS will have a drop in Open House August 12th from 5:00-6:30. You will be able to pick up schedules and Chromebooks(insurance form of acceptance or denial required), as well as meet your teachers. We will not have a large group meeting, however, Administration will be around to answer questions. In case you can't make it that night, to get your schedule and Chromebook, we will also be handing those out starting August 10th from 8-3. Just check in with the office for those days. However, the 5/6 building will only be open during Open House.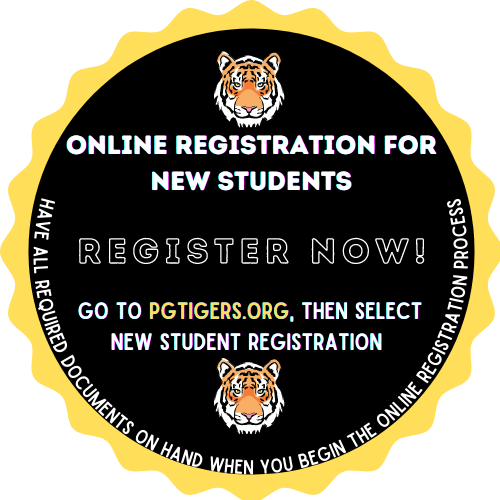 Don't forget any Returning Student who hasn't Pre-Registered for the 2021-2022 must do so by August 1st to Ensure Teacher Assignment or have a class schedule created! Follow this link to start your Pre-Registration Link:
https://www.pgtigers.org/page/returning-students-pre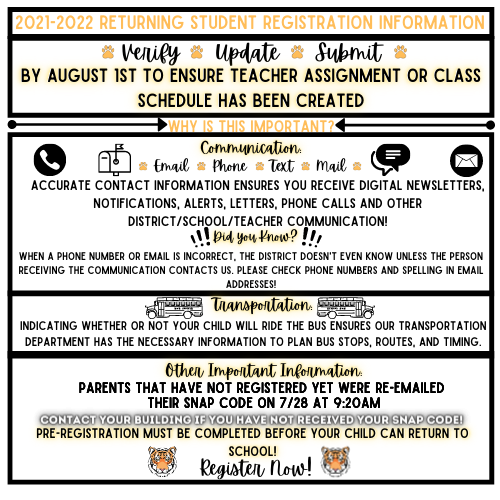 Middle School students will be able to get their class schedule tentatively on Aug 12th. More information coming soon.

Open Enrollment for new students and Pre-Registration for returning students has opened! For any returning student that did not pre-register before the end of the previous school year, you will receive a snapcode and link via email or mail to pre-register.

We are asking the parents of Prairie Grove students to complete a brief four-question survey regarding how Prairie Grove Schools can improve their communication with parents. Please consider each question and respond with your opinion. All responses are confidential and the survey will end Friday, July 16th.
https://forms.gle/YBD7rkc55xNnwyCZ9

All Prairie Grove School District Offices will be closed on Friday, July 9th, due to work on our internet cabling.
5th and 6th Grade Supply Lists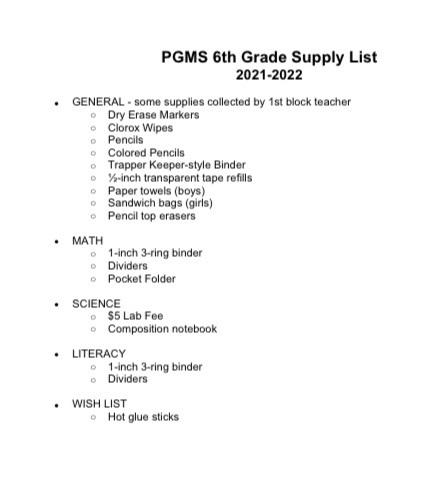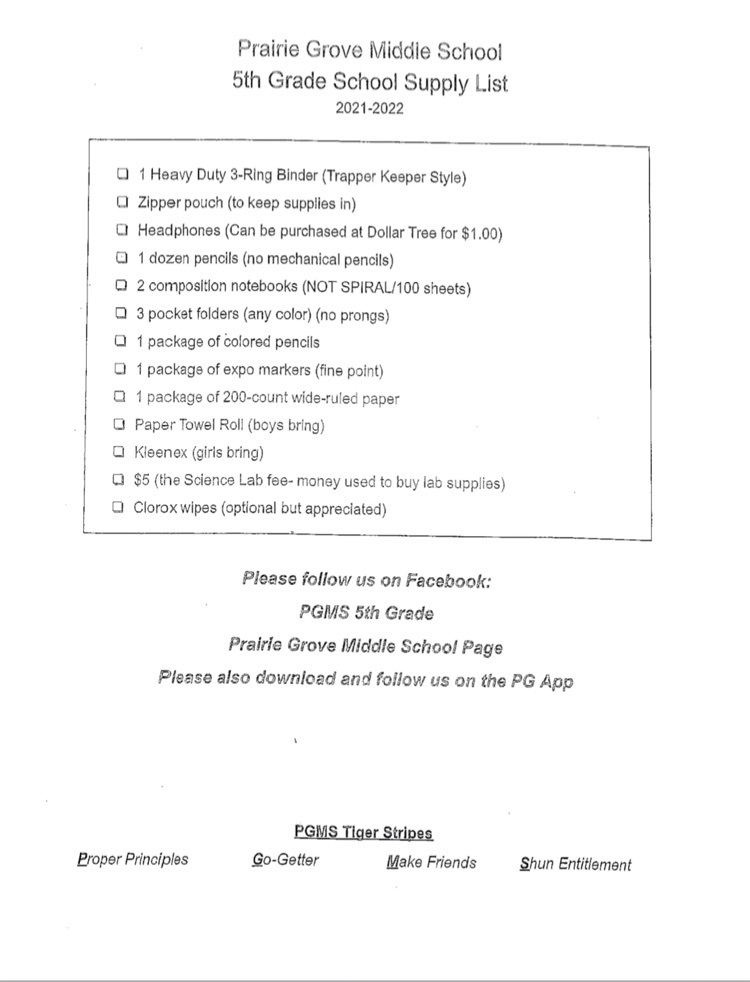 COVID Vaccination Clinics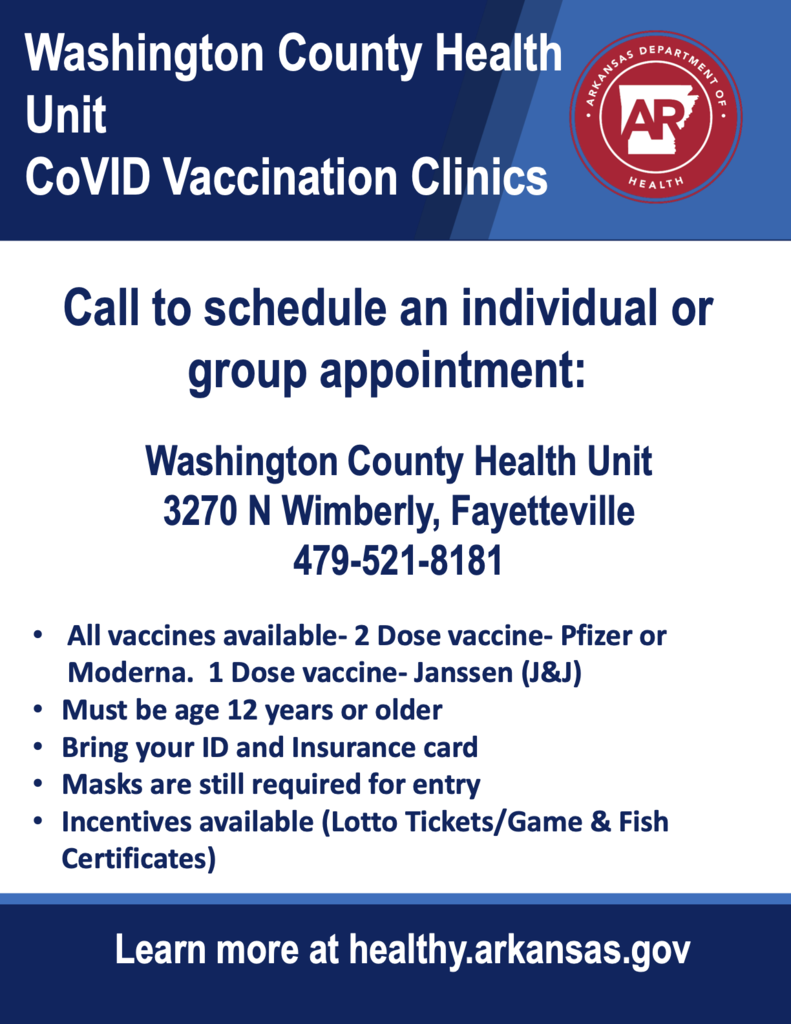 Governor Hutchinson Urges Parents to Have Their Children Vaccinated: At his Tuesday news conference, Governor Hutchinson commented that school-aged students who are fully vaccinated no longer have to quarantine after exposure to someone with COVID-19. They can continue attending school and participating in extracurricular activities.

Pre-Registration for for the 2021-2022 School Year has ended. Registration will open back up for the 2021-2022 Mid July. Check pgtigers.org in July for more updates.

Pre-Registration has ended for the 2021-2022 School Year. If you are needing more information, please contact your 2021-2022 School Year building!

There will be a Covid-19 Pfizer vaccine clinic for 12 years of age and older at PG Health and Wellness Clinic on June 1-4 from 3:00-5:00 each day To sign up, go to the Tiger homepage and register through the InTake Q link or follow this link:
https://intakeq.com/new/Zdvl3K