Picture Day is tomorrow!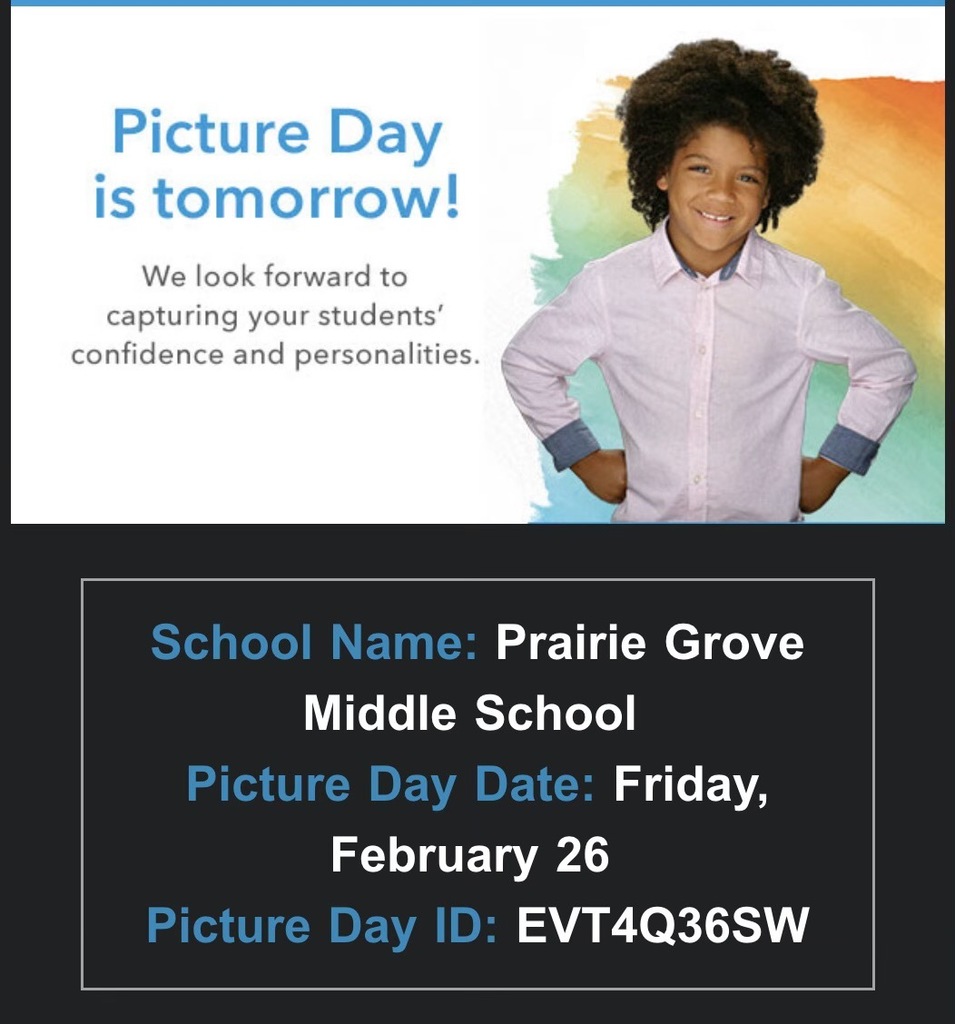 PGMS/PGJHS parents: All car riders(5th -8th) are supposed to be picked up in the back parking lot. Our line does not take long and we allow you to exit through the football field to avoid the Elementary line if you are not picking up younger kids. Please do not park in other locations and ask your students to meet you there. This is a safety issue and we appreciate your help in this manner. If you have questions, please call your student's principal or office for help. (PGMS 846-4220) (PGJHS 846-4221)

Good morning! We are back at it and running strong. I do want to make parents aware that we do not have an abundance of loaner Chromebooks. Please make sure to have your student charge and bring their issued Chromebook each day.

Dear parent of a Prairie Grove School District student: Even though it is still February, we are already starting to make plans for the 2020-21 school year. These plans include how we would like to address the needs of students who still wish to participate in their school's instruction online at home. To give the PGSD a good idea of how many students would want to take part in this option, we are asking all parents to complete this very short survey that should not take over 5 minutes for you to complete. You will only need to complete one survey for your entire family. Please use the following link to access the survey:
https://forms.gle/6xKUvmq1o9oxRg3d6
Prairie Grove Schools will have online instruction on Tuesday. All offices and kitchens will be closed.

Attn: 6th grade parents: Your student was given a CAP Conference sheet last week to bring home. This is very important in the selection of next year's classes. Please locate this if you have not returned it yet. If you need another one, please email your child's teacher or call the office.

We have an Incentive Day on this Thursday and digital days on Friday and Monday. Please check your email for digital day assignments. On-Site students: Parent Teacher conferences are this week. We are offering virtual conferences by appointment on Tuesday and Thursday. If you desire to speak with your child's teachers, email them or call the office at 479-846-4220. For our 5/6 grade virtual parent/teacher conferences: Mrs. Spence will be available for calls on T/Th from 3:30-6:30 at 846-4213 extension 3429 if you need to speak with her. 6th graders you will have some additional information emailed to you about 7th grade class selections.
Is your child missing their glasses? These are in the office.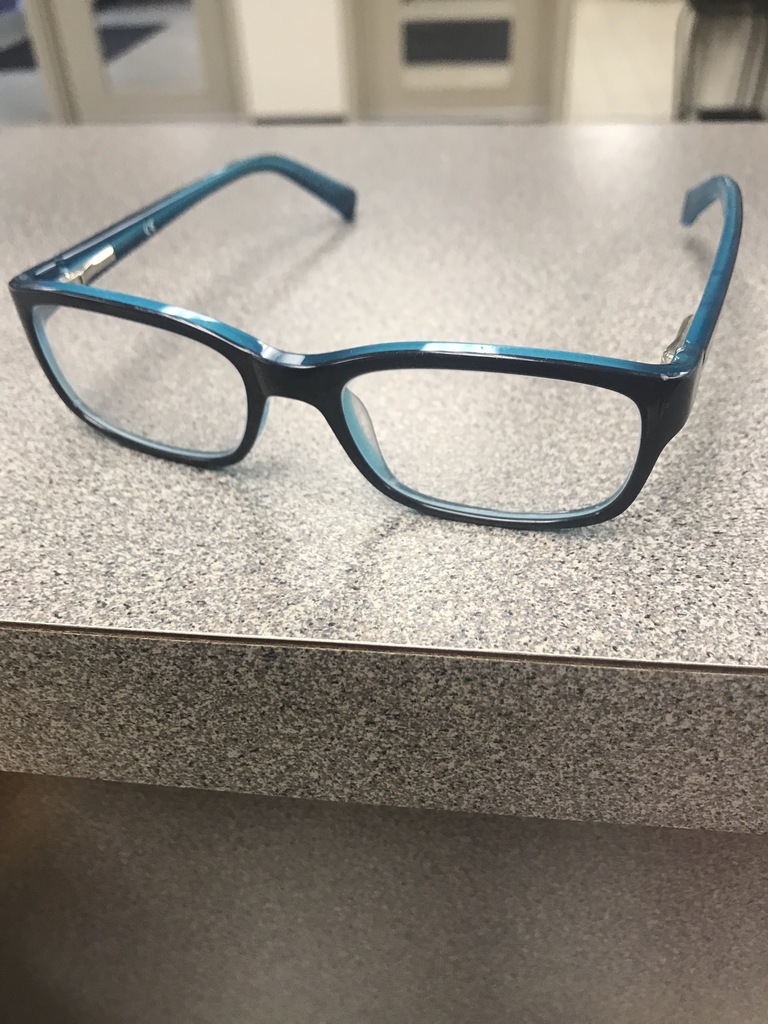 February's lunch and breakfast menus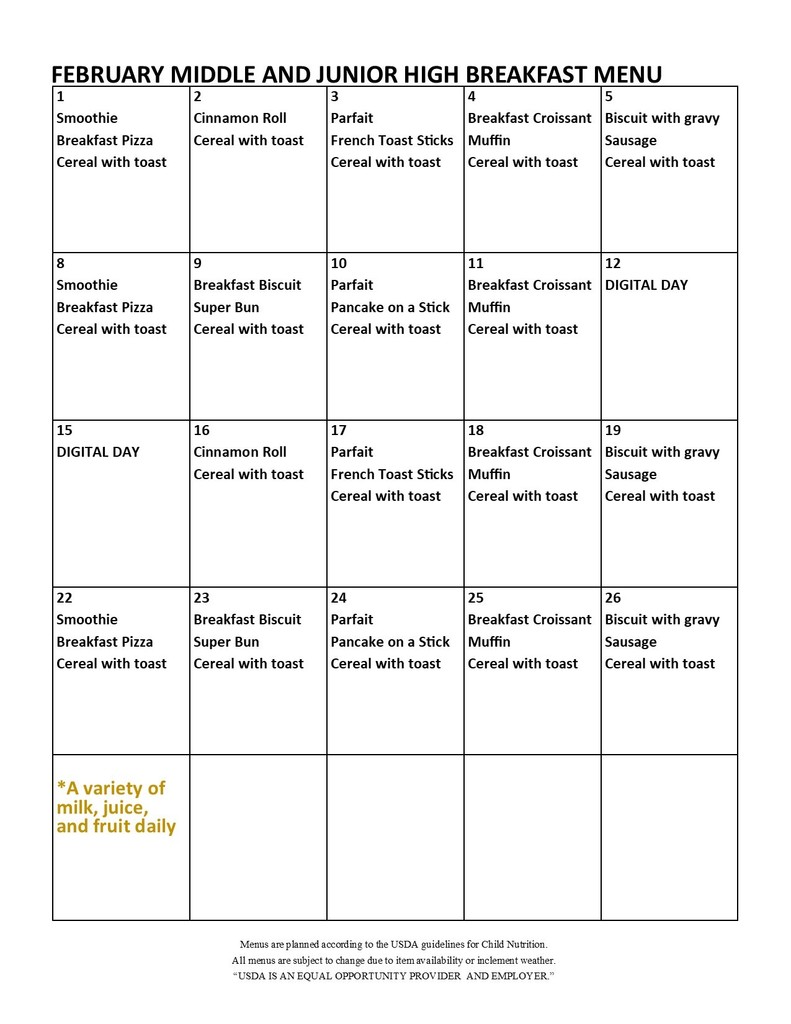 Incentive notes were due today, however we know that some have had to do make-up testing this round. Due to that, we will accept Incentive Notes until Wednesday the 27th.

Here is a new PGMS attendance policy for virtual students.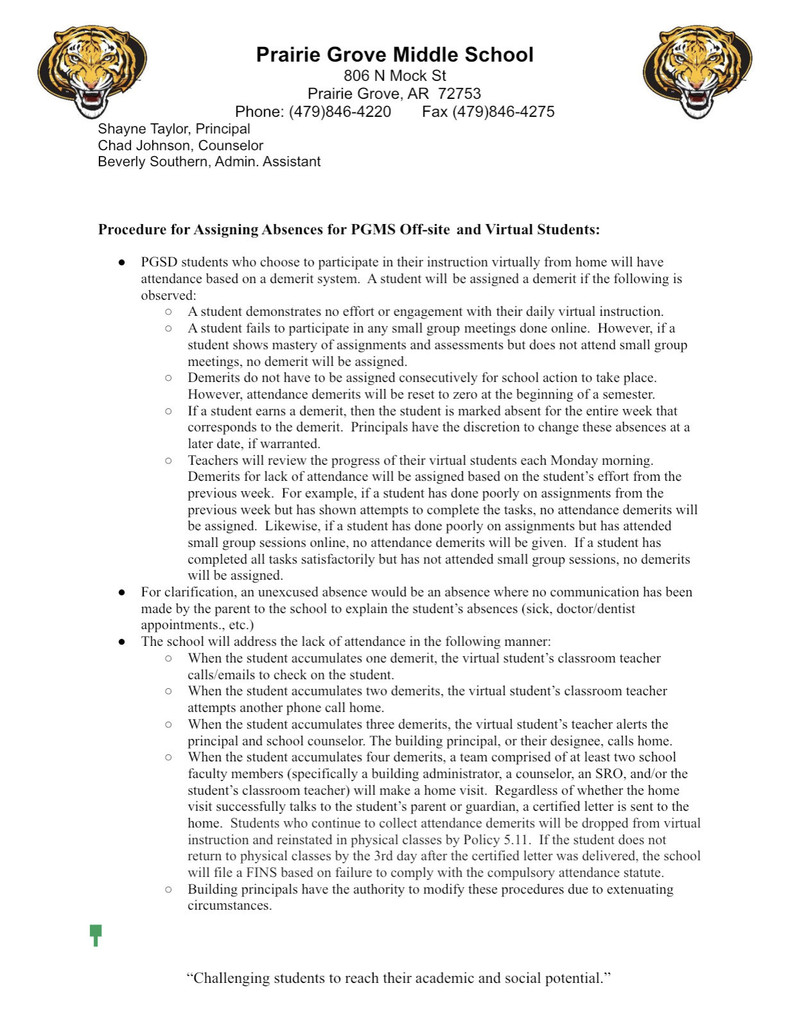 iReady testing for 5/6 virtual students will be the 12th (Reading) and the 13th (Math). The students will receive an email with links to join a Google meet and the Clever app for testing that morning. We plan to start at 8:30 sharp. Please be on the Google Meet by 8:25. All virtual students need to take the test, but you are excused from daily Buzz assignments on those days.

Final 1st semester grades, for 5th and 6th graders, will be updated and posted by the end of today on HAC. You can always access HAC through our website pgtigers.org. If you would like a paper copy, please request one through the office (479-846-4220).

Over Christmas Break, the Home Access Center (HAC) was updated and with a new link. If you had bookmarked the older one, it will need to be updated. The new link is located at pgtigers.org -> Menu -> Community -> Home Access Center (HAC).

Here are this months menus.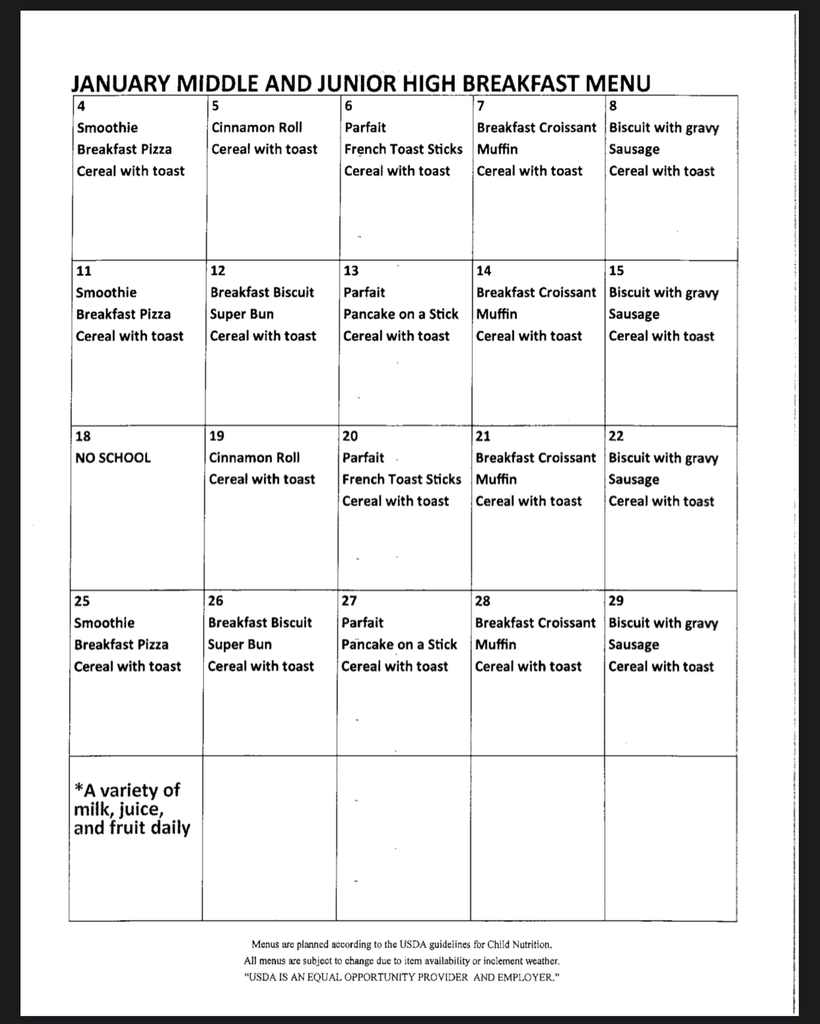 January Breakfast and Lunch Menu's have been posted on the District Website.


For the upcoming Digital Days (November 23rd and 24th), there will be a free meal pickup on November 23rd. To schedule a pickup please email
virtual.meals@pgtigers.org
on the morning of November 23rd. Pickups will be at 10AM.

For the upcoming Digital Days (November 23rd and 24th), there will be a free meal pickup on November 23rd. To schedule a pickup please email
virtual.meals@pgtigers.org