Progress Reports and Parent/Teacher Conferences: Parents of On-Site Students - Progress report grades have been updated in HAC. If you forgot or need your password, please call the high school office between 8-3 on Monday. Parent-Teacher conferences will be conducted by phone or virtually on Tuesday the 22nd and Thursday the 24th. A link for you to sign up will be posted on our website and social media on Monday morning. Parents of Virtual Students - You can check the progress and grade of your student by looking at their Buzz account and going to each class. Parent-Teacher conferences will be done on a different date for you and your student. Your student has been getting updates emailed to them from Mrs. Styles. Please have your student share the information that was given to them about Parent/Teacher conferences with you.

Class of 2020 - if you ordered a yearbook you can come pick it up in the high school office during school hours. If you don't remember if you ordered a yearbook you can email
mandy.bartholomew@pgtigers.org

Here are the Athletic Events that are scheduled for this week: Monday, Sept. 14th Volleyball vs. Harrison in the Arena 4:45 Tuesday, Sept. 15th Golf at Carroll County Country Club 1:00 Tennis vs. Shiloh Christian at PG 3:30 Volleyball at Pea Ridge 4:00 Thursday, Sept. 17th Tennis at Harrison 3:30 Golf at The Highlands Golf Course in Bella Vista 4:00 Volleyball at Gentry 4:00 7th Grade/Jr. High Football vs. Stillwell, OK. in the Stadium 5:30/7:00 Friday, Sept. 18th Football at Stillwell, OK. 7:00

Senior Yearbook pictures will be on Tuesday, September 15 and Wednesday, September 16 in the new gym lobby. On-campus seniors will sign up in English class and virtual seniors will sign up by emailing Mrs. Bartholomew. Parents & students may view pictures on Wednesday, September 16 in the new gym lobby. Information has been sent out regarding these pictures. We will schedule a makeup day if a senior is unable to attend. If you have any questions, please email Mrs. Bartholomew.

Prairie Grove School District is currently without power. Due to this phones are down at the moment. Tonight's game vs Farmington is still on schedule to start at 7PM.

Regarding Meals for Virtual Students: Starting Thursday, September 3rd 1. Daily request by 9:30 am for meals that day only on the form that was previously provided for virtual meals or email
samantha.molz@pgtigers.org
2. Meal pickup at the high school bus canopy area. 3. 10:30 am pickup time 4. Bring exact change if possible. Any amount above meal cost will be credited to your student's meal account. 5. Reduced meal prices- breakfast $.30, lunch $.40. Regular meal prices- breakfast $1.60, lunch $2.85

Students that need to check out a chrome book from the high school need to fill out the Insurance Program form. Students must bring this form back signed before they will be issued a chrome book. The form can be found on the high school website under documents.
https://5il.co/kbn8

August & September Breakfast/Lunch Menus have been posted for all buildings. You can access these by going to pgtigers.org - > Menu -> Cafeteria.
Chrome book pickup: All Vitual and Blended students may pick up a chrome book if needed in the High School Library Wendesday and Thursday from 8:00 am-3:00 pm. Onsite students will begin picking up chrome books on Friday starting with Seniors. To speed up the process, students can bring the form attached signed when they come. If buying Insurance, must have money before receiving chrome book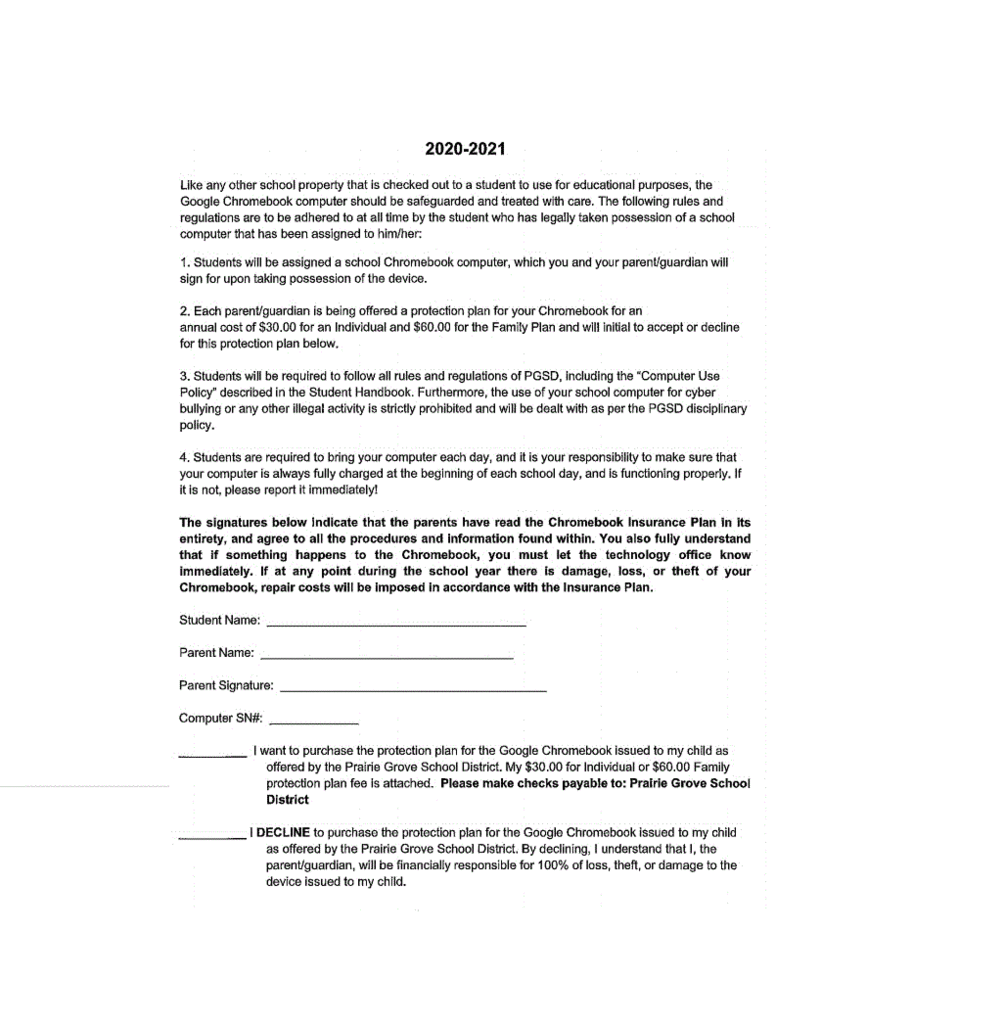 We would like to welcome you back to the 2020-21 school year starting Wednesday, August 26th. For the many questions you might have, please read through the "Start to School Readiness" tab on our website. If you can not find your answer there, email
administration@pgtigers.org

Home Access Center for PGHS is shut down until tomorrow when schedules are released. Even if other buildings are open, you will not be able to see your high school student on HAC until tomorrow. Sorry for any confusion or worry this might cause.

On Monday, August 24th from 4PM-6:30PM there will be a Medication Drop Off for families that have children who receive medicine each day or children who need to keep emergency medication at school. FOR ALL GRADE LEVELS. Click Here for Information:
https://tinyurl.com/y4l3gg3h

This year seniors (class of 2021) may come to school for only the classes they need to graduate, plus any additional classes they'd like to keep. To do this, the student and their parent(s) must set up a meeting with Mrs. Hunt. These meetings can be done virtually or in-person. To sign up for a meeting please visit pghscounselor.youcanbook.me - If the student plans to stay at school the whole 8 periods no meeting is required. Thanks, Prairie Grove High School


Today's graduation will be live streamed on pgtigersonline.com at 2PM

Today (July 16th) at 10AM the district network will being down for maintenance. During this time, phones will not be available. If you have any questions or issues, please email the appropriate buildings. Thanks!



Prairie Grove will have an in-person graduation on Saturday, August 1st. The state has approved our plan and attendance will by invitation only. Please understand that if guidelines or regulations from the state department change, we might have to make changes. Please read all of the following: 1. When: Saturday, August 1, 2:00 pm 2. Where: Tiger Arena 3. Each graduate will be offered 6 tickets. 4. There will be an RSVP questionnaire sent out at 9:00 am on Tuesday, July 7th. It will be on the high school's website and on the high school Facebook page. 5. Each graduate must RSVP by Sunday, July 19th. 6. Families will be assigned seats in the arena and must wear masks (age 10 or older). 7. Family seating will be assigned based on the order that the RSVP questionnaires are received. 8. If there are any unused tickets, there may be an opportunity for more to be distributed; however, these are limited and will depend on a first-come, first-serve basis on when the survey is submitted. 9. Graduates planning on walking must attend a mandatory practice on Friday, July 31, at 10:00 am. Practice will be at the arena. Students will be given their tickets at the end of practice. 10. Only graduates will be admitted to practice. They need to bring and wear their mask.

Based upon our understanding of Arkansas Dept of Health guidelines regarding large group activities and social distancing, the Prairie Grove School District is sad to announce that the 2020 Prairie Grove High School Prom has been canceled.