COVID Vaccination Clinics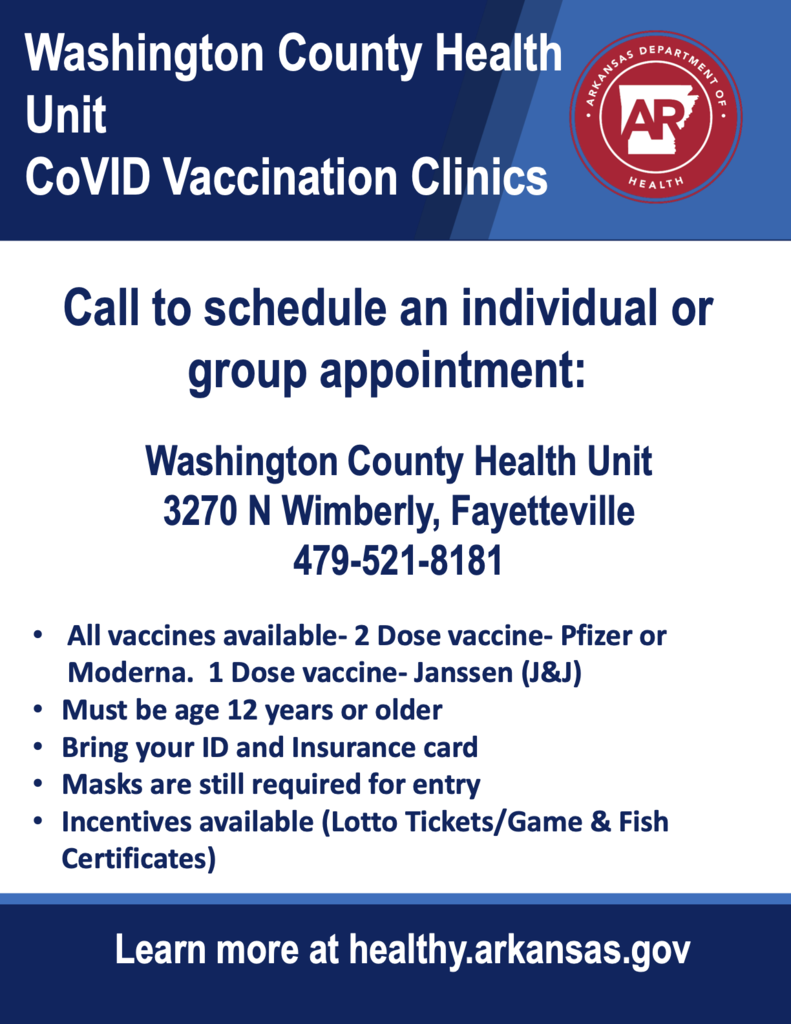 Governor Hutchinson Urges Parents to Have Their Children Vaccinated: At his Tuesday news conference, Governor Hutchinson commented that school-aged students who are fully vaccinated no longer have to quarantine after exposure to someone with COVID-19. They can continue attending school and participating in extracurricular activities.

Cross Country practice Monday, June 14th @ 7AM. Meet behind the High School.

Golf tryouts for today have been postponed due to a scheduling conflict at Fayetteville CC. Students that signed up need to check their student emails for updates. More info to come soon.
Dear Parent or Guardian of a PGSD student: Our school district has the opportunity to receive funding to help purchase computers for students. This funding can help to provide each student within Prairie Grove Schools access to a computer to promote remote learning while at school and away from campus. But we need your help! Please be on the lookout for a computer needs survey. The more responses we get, the more accurate our estimate of eligibility will be.

A reminder that Softball tryouts are scheduled for tomorrow from 2:00 to 4:00.

Pre-Registration for for the 2021-2022 School Year has ended. Registration will open back up for the 2021-2022 Mid July. Check pgtigers.org in July for more updates.

The Softball tryouts scheduled for tomorrow are being moved to this Thursday, June 3rd from 2:00-4:00. They are being moved because of wet field conditions. Apologize for any inconvenience this may cause.

Prairie Grove Schools Administration Office Summer hours will run from June 1st - August 2nd, 2021. Monday - Thursday 8:00 - 3:00 Friday 8:00 - 12:00

Softball tryouts scheduled for tomorrow have been moved to Wed. June 2nd from 3-5 due to the weather forecast. Pitchers and Catchers will meet in the Pee Wee gym tomorrow from 10-11. Anyone who wants to pitch or catch needs to be there. See you then. GO TIGERS!

Pre-Registration has ended for the 2021-2022 School Year. If you are needing more information, please contact your 2021-2022 School Year building!

There will be a Covid-19 Pfizer vaccine clinic for 12 years of age and older at PG Health and Wellness Clinic on June 1-4 from 3:00-5:00 each day To sign up, go to the Tiger homepage and register through the InTake Q link or follow this link:
https://intakeq.com/new/Zdvl3K

Baseball tryouts have been moved to Wednesday, June 2nd from 5:30-7:30 pm and Thursday, June 3rd from 10:00-11:30 am. Tryouts will be held at Reiff Park.

Tonight's graduation will be live streamed on pgtigersonline.com and on YouTube (pgtigersonline) at 6PM.


Boys Soccer Final: De Queen 5 Prairie Grove 1. Nice season Boys!

Boys Soccer trails De Queen 3-1 at the half.

De Queen scores. Leads Tigers 3-1.

De Queen scores. Leads Tigers 2-1 in Boys Soccer.