PGMS will be having school all this week. Our incentive days for this MAP testing period will be on (Jan 18, Feb 15, March 15).

Students are bringing home Info today about AMI, in case we have a bad weather day soon.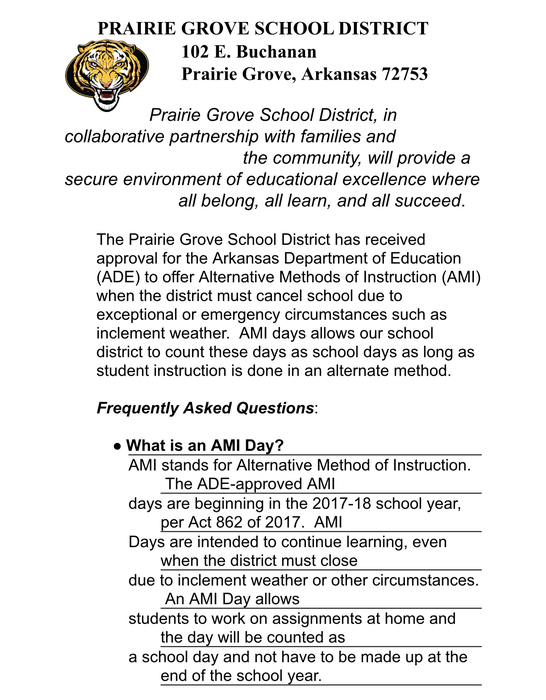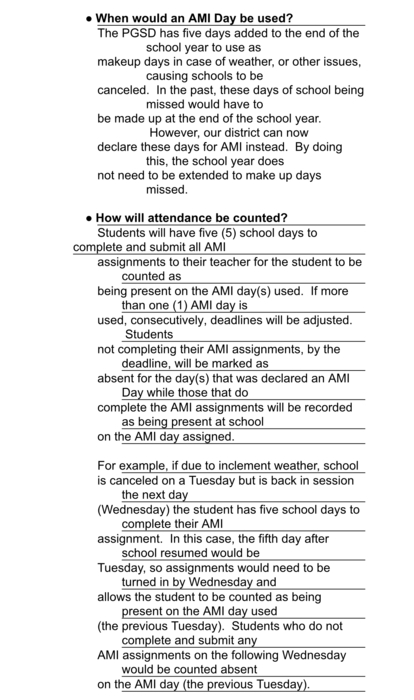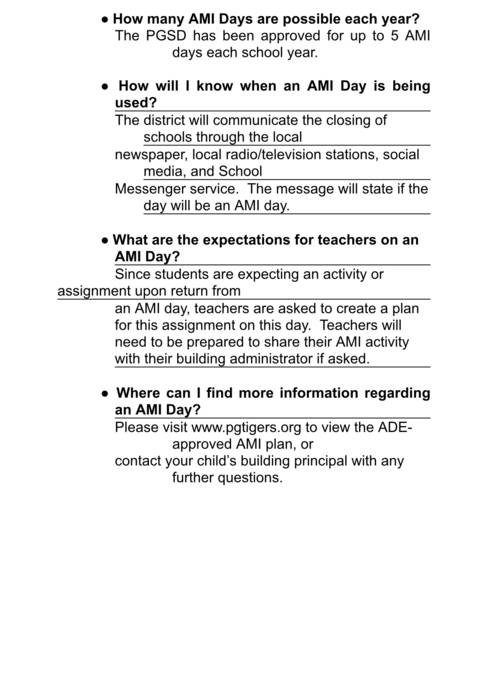 Reminder: Tomorrow is the 1st Parent Advisory Committee meeting. If you would like to attend, it is at 11:00 in the 8th grade building across from the football field. Park in the parking lot for car riders. I will meet you to get into the PD room. Even if you haven't let me know, you can attend.

Our first Parent Advisory Committee will be Nov. 1 at 11:00 in the PD room. Please email
shayne.taylor@pgtigers.org
if you want and plan to attend.

Reminder that we are having Family Fun Night tonight at 6. We will have free games, food and prizes!!!!! Come on out and have a blast!!!

Reminder that we are having Family Fun Night this coming Tuesday, October 16th at 6. We will have free games, food and prizes!!!!! Come on out!

Reminder of Parent Conferences tonight and picture day tomorrow. We will also have a fundraising dance tomorrow. $2 to get in and concessions will be sold as well. Those not going to the dance will have a study hall class.

Parent Teacher Conferences tonight and Thursday. 3:30 - 6:30 in the 5/6 building and cafeteria. Please drop in for 7/8 conferences and schedule the 5/6 if you haven't already.

PT Conferences are being held this week on Tues. and Thurs. from 3:30 - 6:30 for 7/8 graders. 5th and 6th should set an appointment on one of those days. Also Thursday night at 7:00 we will have our annual Report to the Public and Title 1 night in the library. All are invited.

We were able to have police and drug dogs check our campus today, just in case your student notifies you of police activity at school. We are thankful for the partnership of other forces to allow us to use their K-9's.

We will have regular dismissal today at 3:05. Please return any forms back to school, especially the federal lunch forms. It helps us to fund jobs and supplies to assist our students. Call 479-846-4221 if you have any questions or need another form.

We had a great first day at PGMS, and we hope you did too. Let us know how we can help you. 479-846-4221 There was an error on the last post. The street is one way from 7:15 until 8:00 am, not 7:45. Thanks so much for trusting us with your most valuable possessions.

Welcome back!! We will have schedules ready in your building in case you need it. (5/6, 7 and 8) Remember that campus is one way from Mock to Viney Grove at 7:15-7:45 and 2:45-3:30. If you can't be in a parking lot by 7:15, please follow the directions. Middle school cars need to stay to the right when entering off of Mock and enter the drop off line. You may still exit through the football field, but be careful. Have a great first day.

Middle School Open House Aug 7: Schedules will be opened in HAC at 10:00am Paper copies will be available in the library from 3:00 - 7:00 New student orientation will be in the cafeteria from 6:00 - 6:15 Teachers meet and greet in their classrooms from 6:00 - 7:00

Supply lists and the 2018- 2019 Handbook are loaded on the website under documents. The documents tab is at the bottom of the page.

All lockers are being removed from the MS campus, excluding athletics, for next year. We are still working on a backpack policy, so please do not purchase a new one just yet. Safety is our ultimate goal.

5th and 6th grade progress reports were sent home today in Tuesday folders. 7th and 8th grade parents can print a progress report from HAC or request a paper copy from the office.

LIfetouch pictures or money is due to the office by this Friday, April 13th.

Report cards were finalized yesterday. 5th and 6th were sent in Tuesday folders and all are updated on HAC. If you would like a paper copy, please call the office and request one. Go Tigers!

Wednesday, February 28th - Mrs Hunt came to meet with all 8th graders during their Literacy class. The kids had handouts to bring home and lots of information about the high school. Also, a link to a couple of informational videos about classes and clubs will be available on the PGHS Counseling Dept Website:
http://www.pgtigers.org/o/high-school/page/main-counseling-page--2
Monday, March 5th - 8th grade Parent information night at 6:30 in the high school library. This is a great time to ask any questions you might have. Thursday, March 8th - while 8th graders are not participating in HS CAP conferences this year, parents are still more than welcome to drop in and ask any specific questions to high school teachers they might have. So if they have a question about the math classes they will be able to ask the math teachers. Most teachers will be available from 10-6. Those that coach a spring sport will more than likely have to leave early that day. Friday, March 9th - Mrs Hunt is coming back to 8th grade math classes to help students register for the classes they will take next year.