Today's Jr High track meet in Siloam is postoned until tomorrow
Today's baseball game with Greenland will start at 4pm.
Today's baseball game with Charleston will begin @ 5:30. Varsity only
Today's softball game with Rogers Heritage will start at 5pm.
Today's Softball game with Siloam Springs has been cancelled. We will try to reschedule at a later date.
Baseball game today at PG has been cancelled.
School will be closed on Monday (February 12, 2018) due to ice.
Tonight's game w/ Pea Ridge has been postponed to Wednesday (2/7/18) @6pm.
PG Basketball Senior Night tonight vs Lincoln. JV Boys start @5:30 followed by Sr Night ceremony around 6:15, Sr Girls and Boys game afterward.
Come out and support our Track Program!!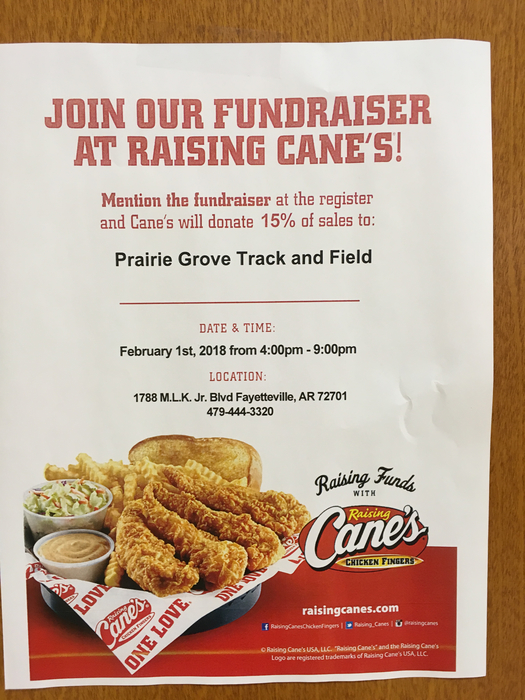 All games in PG are canceled tonight 1/11/18
Tonights games vs Gravette will start at 5pm with 8th boys, 8th grade girls, jr girls, jr boys. All games will be in Arena.
Friday's basketball games with Elkins will start ar 5:30pm with SR Boys JV, Colors Day Ceremony, Sr Boys, Sr Girls games.

High School Football Banquet will be Saturday, January 27th at 5:00 in the HS cafeteria. A meal will be served. Parents are asked to bring a dessert.

As of January 15th all School Board Meetings will be held the Prairie Grove High School Library.
There will be a Pancake Breakfast Saturday, Jan 6th at 8am in the HS cafeteria. Cost is $5.00 a plate
Tonight's game at Gravette will begin @5:30 with JV B, SG, SB.
Friday's night basketball game against Gentry will start at 5pm

December Lunch Menus have been posted.