*Preschool registration practices will comply with current physical distancing guidelines directed by the Arkansas Department of Health (ADH) and the Arkansas Division of Elementary and Secondary Education (DESE).
Age Requirement: The child must be 4 years old on or before August 1, 2021.
Registering your child in Preschool at Prairie Grove now consists of two steps:
Registration: Using our secure web portal the parent or guardian will create an account and enter the student's information and complete the required registration forms. For Registration please contact: Samantha Adams or Robyn Smith at (479) 846 - 8106 or email prekinfo@pgtigers.org

Verification – Applications and documents are verified by Pre-K staff. If you have any questions regarding registration, please contact at (479) 846 - 8106 or email prekinfo@pgtigers.org
Where do I register my preschool student online?
Please contact at (479) 846 - 8106 or email prekinfo@pgtigers.org
When can I pick up a hard-copy enrollment packet?
Please contact at (479) 846 - 8106 or email prekinfo@pgtigers.org
What are the required documents for preschool registration?
Required Documents include:

Birth Certificate or Birth Record

Social Security Card/Number

Current Immunization Record

Current Well-Child Check-up

AR Kids Card or Private Insurance Card

2 Proofs of Residency in Prairie Grove School District

(Current utility bill or refer to the Prairie Grove Student Handbook for other acceptable documents)

Documentation to verify income (provide 1 of the following):

Last 4 paycheck stubs

2020 W-2 Statements

2020 Federal Income Tax Return

2020 Form 1040 Schedules C or F (self-employed)

If you have no income, you will need to request to have a "no income" form emailed to you.

Projected Income Eligibility Levels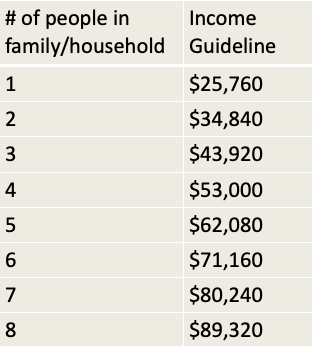 How do I complete registration for my preschool student?
Online forms will be available soon. Supporting documents do not need to be uploaded but will need to be provided at the time of your appointment with the Pre-K staff.
Can I turn my preschool registration packet in at the elementary school?
No, we are not accepting paper applications at this time.
Is there any other information I need to know about preschool registration?
Parents/guardians will be contacted by Prairie Grove Elementary Pre-K staff to inform you that your application is complete and inform you about your child's acceptance into the program.
I have a question about preschool registration. Who can I connect with?
For questions, email prekinfo@pgtigers.org
Registration Links: